Reserve the New 2021 Jeep Wagoneer in Oklahoma City, OK
Now that the 2021 Jeep Wagoneer reveal has happened, it's time to reserve your new 2021 Jeep Wagoneer in Oklahoma City, OK

John Vance Chrysler Dodge Jeep Ram wants to help you build your new 2021 Jeep Wagoneer in Oklahoma City, OK. The original Jeep Grand Wagoneer was a game-changing SUV that provided luxury, power, and abundant space, and the new 2021 Jeep Grand Wagoneer in Oklahoma City is even more impressive. We've been waiting for the new Jeep Wagoneer reveal for years, and we're so pleased to see that the Jeep Wagoneer concept is so similar to the production Jeep Wagoneer.
The Jeep Wagoneer features a bevy of technology, comfort features, and luxury Jeep options that make it a powerful full-sized SUV. The new 2021 Wagoneer shares many characteristics of the original Jeep Wagoneer, but it's built specifically for the modern consumer.


How do I reserve the new 2021 Jeep Wagoneer in Oklahoma City, OK?
It's easy!
Reserve the Wagoneer today and customize your Wagoneer to reflect your personal style, needs, and personality. This new Jeep model is a luxury SUV, and that means an unprecedented level of customization and comfort features and specs in your Jeep. There's no wrong way to build a 2021 Jeep Wagoneer, but there are a few common configurations for the new Jeep Wagoneer in Oklahoma City. This luxury Jeep SUV will feel like a fully loaded Jeep Wagoneer no matter how you build your Wagoneer.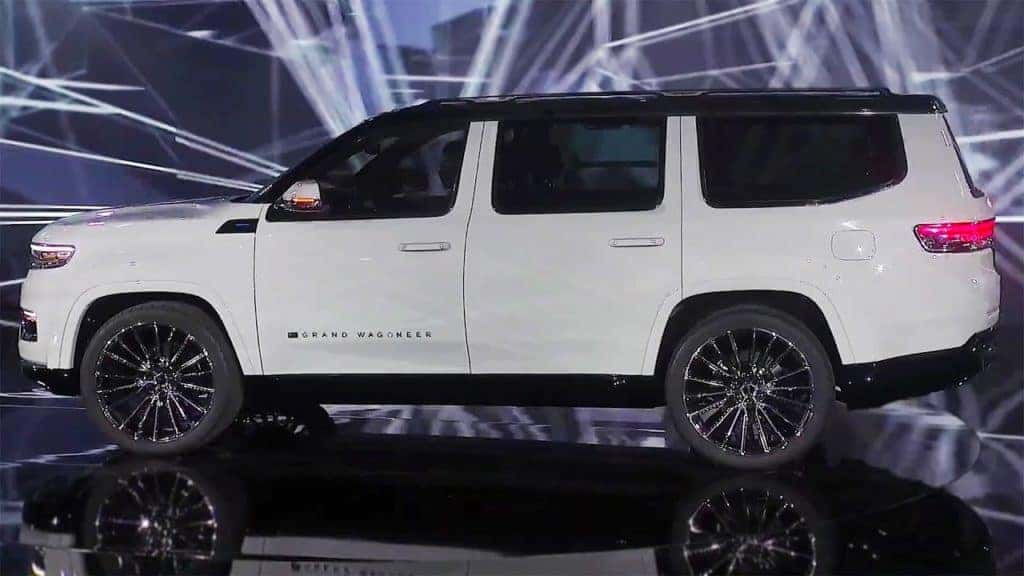 Features of the new 2021 Wagoneer and new 2021 Jeep Grand Wagoneer in OKC include all-new technology systems, screens for every occupant, potentially a brand-new UConnect 5, and a premium audio system. There's no better time to experience luxury than to reserve your new Wagoneer now at your local Jeep dealership in OKC.
Just check out the new Jeep Grand Wagoneer design features. It's wrapped in premium materials inside as you'll see when you view the new 2021 Wagoneer interior.

There are a few different Jeep Wagoneer trims, but they're all featuring the impeccable style of the new Wagoneer in Oklahoma City. You'll love the effortless power of the 5.7L V8 in the Wagoneer Series II, but thankfully you can get the V8 in the Wagoneer Series III and the Wagoneer Series III Off-Road.
What are the different trim levels for the new Wagoneer in OKC? Click here to learn more about the trim levels for the 2021 Wagoneer. You'll need to see for yourself to believe the luxury Wagoneer Series II and Wagoneer Series III options and features. It's a fancy Jeep, but it still has off-road chops when you reserve a Wagoneer Series III Off-Road in OKC.